Igus has developed a new wear-resistant material for high-temperature applications that will help ensure reliable and long-lasting operation and will be particularly beneficial to the food and packaging industries.
The new material is used as the base material for the iglide AX500 long-life bearing, which is resistant to friction, heat and electrostatic charges. Bearing points in food and packaging applications are often exposed to high temperatures and speeds, and the new AX500 material works reliably in such situations.
Dosing systems equipped with extremely sensitive mechanisms can fill thousands of bags in an instant. The slides and straps then place the products in a box. At this high speed, all packaging structures, especially bearings, are subject to wear.
The new iglide AX500 high-performance polymer plain bearings help ensure that the bearing points are maintenance-free and durable. The new material is electrostatically dissipative, ensuring that the bags do not stick to each other and that employees do not receive an electric shock.
In very dusty environments, such as flour processing, sparks can cause a dust explosion. These sparks can occur in the form of small arcs when moving machine parts do not have an electrically dissipative design.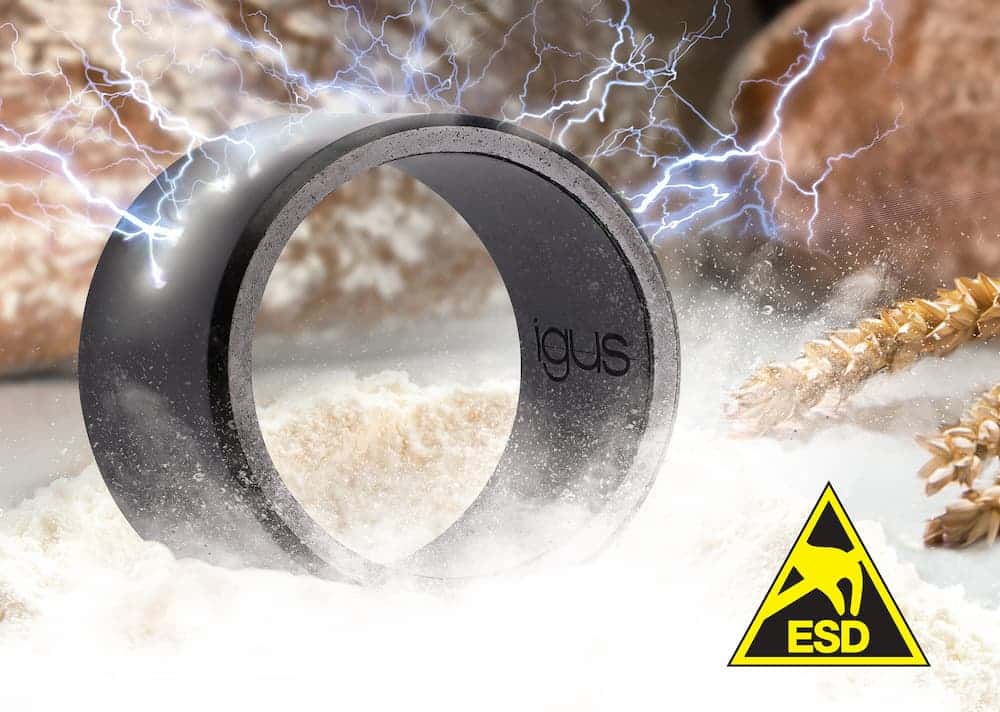 Source of the picture: press.igus.co.uk
Safe, wear-resistant bearings, even at high temperatures
The iglide AX500 is especially suitable for high temperature ranges, so it can also be used in applications such as cleaning ovens and bottles. Its good chemical resistance means that aggressive cleaning agents do not damage the bearing. Nor is it a problem for the iglide AX500 to come into contact with food, as the tribologically optimized polymer with embedded solid lubricants does not require additional lubrication over its lifetime. The substance also complies with Regulation (EU) No. 10/2011. Not only are iglide AX500 plain bearings maintenance-free, unlike stainless steel bearings, but they are also less expensive and less expensive than stainless steel bearings.
Wear test
The iglide AX500 achieves much better wear results than the iglide A500. The wear of the iglideA500 and iglide AX500 was tested by rotation testing on stainless steel shafts in igus' own laboratory. The new material has a wear coefficient that is up to three times that of the previous one.
Special sizes from injection molding can be delivered within a few days
Igus currently offers the new bearing in standard sizes (6-20 mm diameter), with or without flange. However, if special sizes are needed quickly, the FastLine service is also available to users. The expansion of in-house tooling allows igus to manufacture and supply iglide polymer plain bearings in individual sizes at low component prices within a few days.
If you are interested or have any questions, feel free to contact our colleagues!
Source: bearingtips.com