Bearings, chains, guide rails, racks and gears of various shapes and sizes. These are all moving parts that need to be supplied with different lubricants, their different amounts at regular intervals. Otherwise, they will malfunction and, in addition to unplanned downtime, damage the equipment. Apparently, using an automatic lubrication system could be a solution, but what should it be like?
The more sizes, the more options
If a company decides to install an automated system instead of manual lubrication, the question often arises as to which system is best for them?
The international market has an extremely wide range of these systems, which can make the decision difficult for the maintenance workers. Especially when the advantages and disadvantages of different lubrication systems are not or only vaguely known. Of course, as a distributor, we say that the SIMALUBE single-point automatic lubrication system is the best solution on the market. But what makes us so sure about that?
What sets SIMALUBE apart from other automatic single-point lubrication solutions?
SIMALUBE lubricant cartridges, in addition to their high quality and reliability, are made unique by their flexibility, which is made possible, among other things, by the variety of sizes available.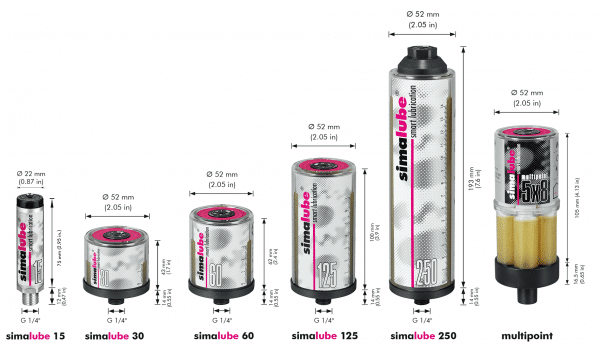 In this aspect, no manufacturer can compete with SIMALUBE. The cartridges are available in 5 different sizes, and larger amounts of lubricant can be delivered to a lubrication point with a 2 or 4 way adapter. They can supply a single lubrication point from 15 ml per year to up to 1000 ml of lubricant, so a single system may be sufficient for lubrication points with different needs. Another advantage is that the functionality and handling remain the same regardless of the size of the cartridge.
Anyone who has ever had to replace an expensive bearing due to improper lubrication is no longer willing to compromise. With a wide range of SIMALUBE cartridge sizes and the use of Calculation Pro, premature bearing failures caused by under- or over-lubrication can now be avoided.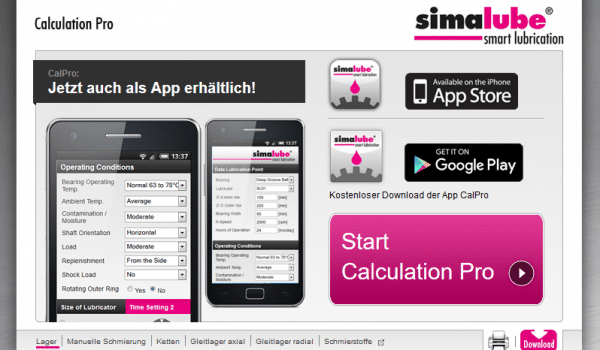 Calculation Pro: An application of SIMATEC to check if you are using the right amount of lubricant for your application.
You can easily create and manage lubrication schedules.
Thanks to the infinitely variable 1-12 month setting and the large selection, it is possible to schedule different lubrication points and equip them with different amounts of lubricant so that all lubrication points can be changed at the same time. This allows dosing changes to be tailored to the needs and choices of maintenance staff. If a company does not have the capacity to replace all emptied cartridges in one day, different sizes and adjustment options ensure optimal design, thus allowing the lubricants to be changed gradually.
You are probably now wondering how you should know which dispensers are empty and which are not if each has a different operating time?
SIMATEC has developed Lubechart for this. It is a clean and simple solution that is available for free through a website after registration. Lubechart helps you to review the various lubrication points, the settings of the dispensers, the installation dates and last but not least the lubricants used. Thanks to its reminder function, operating the dispensers is a piece of cake. Lubechart will notify you when lubricants need to be refilled and will also automatically notify you by email when a dispenser needs to be replaced.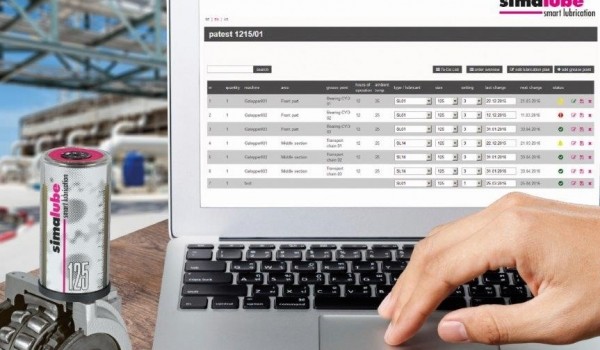 Flexibility above all!
SIMALUBE lubrication systems make lubrication much easier and more flexible. If the amount set first is not correct, you can change the setting again at any time without having to replace the cartridge. This saves a lot of time and money.
Another advantage of SIMALUBE is that the lubricant dispensers can be filled with any lubricant. All dispenser sizes are available empty, so they can be filled with standard or special lubricants.
Dispensers between 60 and 250 ml can be combined with the IMPULSE pressure booster to combat back pressure of up to 10 bar at a lubrication point, which would prevent optimal lubrication. This solves the problem quickly and easily.
If you are interested, contact us! Our experts would be happy to answer all your questions.
Source: simatec.com