Hybrid bearings have steel rings and rolling elements made of bearing-grade silicon nitride (Si3N4) that electrically insulate the bearings.
Silicon nitride rollers can extend bearing life by providing increased bearing performance even under difficult operating conditions.
SKF has developed two types of hybrid bearings: the hybrid deep groove ball bearing and the hybrid cylindrical roller bearing.
Hybrid deep groove ball bearings
High-speed, non-separable bearings can withstand radial and axial loads in both directions. These bearings with a bore diameter of ≤ 45 mm are best suited for electric motors (0.15-15 kW) as well as power tools and high speed drives.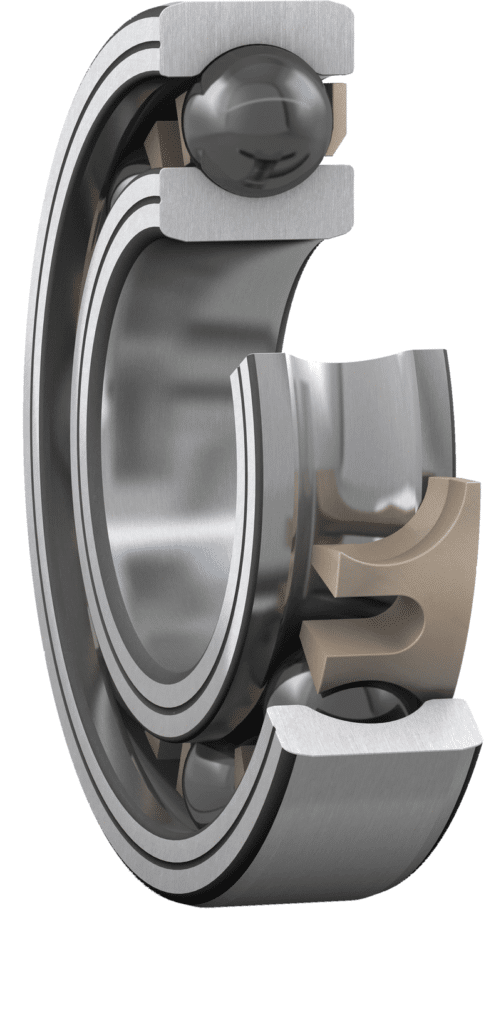 Source of the image: www.skf.com
Hybrid cylindrical roller bearings
These high-speed, separable bearings can also withstand high radial loads and axial displacements. They have been developed primarily for electric motors and heavy-duty applications.
The standard range of SKF hybrid bearings includes all popular sizes of electric motors and generators, as well as the basic design, sealed design and XL hybrid design of single-row deep groove ball bearings. Also single row cylindrical roller bearings.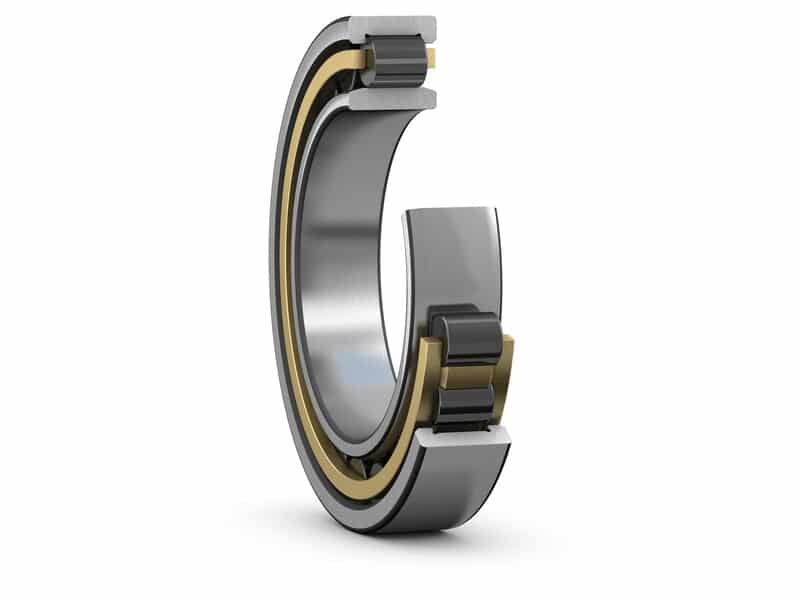 Source of the image: www.skf.com
Of course, these are only part of the hybrid bearing range, as the following types are also available:
Hybrid super precision bearings
Hybrid super-precision self-aligning ball bearings
Hybrid super-precision cylindrical roller bearings
Hybrid super-precision self-aligning thrust bearings, unidirectional and bidirectional
Hybrid self-aligning ball bearings
Hybrid stainless steel deep groove ball bearings
Bearing assemblies containing hybrid bearings
Features and benefits
The advantages of hybrid bearings over the same size bearings with steel rolling elements are:
Protection against electric shock
Hybrid bearings are non-conductive and are therefore suitable for applications such as AC and DC motors and generators where electric current is present.
The density of the silicon nitride rolling element is 60% lower than that of a rolling steel rolling element of the same size. Less weight and inertia means higher speed and excellent behavior during fast starts and stops.
The lower frictional heat generated in hybrid bearings, especially at high speeds, contributes to extending bearing life and relubrication intervals.
Silicon nitride rolling elements have a higher hardness, so hybrid bearings are suitable for use in harsh conditions and in a polluted environment.
Hybrid bearings with high modulus of elasticity offer increased bearing rigidity.
The risk of slipping is reduced
Even under inadequate lubrication conditions, such as high speeds and sudden accelerations, or if there is not enough hydrodynamic film layer, the risk of slipping between silicon nitride and steel surfaces is reduced.
Reduces the risk of false brinelling
When exposed to vibration, hybrid bearings are significantly less susceptible to false brinelling between silicon nitride and steel surfaces (formation of shallow depressions in runways).
Less sensitivity to temperature increase
Silicon nitride rollers have a lower coefficient of thermal expansion, which means they are more stable to temperature fluctuations within the bearing and provide more accurate preload / gap control.
Applications
Here are some examples of applications where these hybrid bearings are excellent:
Electric motors and generators
Cars and light trucks
Two and three wheelers
Railways
Wind energy
If you are interested, feel free to contact our expert staff!